Hope Arriving Choral Book
Hamilton, David (Arranged by) , Semsen, Christy (Narrated by) , Hamilton, David (Orchestrated by)
Description
Hope Arriving offers a unique and refreshing means to easily yet powerfully usher in the season of Advent. Five anthems, centered on the five candles of Advent, can be performed separately or together as a single worship experience. It features stunning arrangements and orchestrations from David Hamilton and Christy Semsen's optional narrative. An optional devotional booklet is available in packs of 10 for the choir members or even the entire church. Songs include Be Born in Me as recorded by Francesca Battistelli, favorite carols, and two brand-new songs from David Hamilton. 25 minutes. Moderate. SATB.
Bulk Pricing
Buy 10–49 for $4.76 each
Buy 50–99 for $4.46 each
Buy 100–up for $4.17 each
Please call 1-800-368-7421 to order.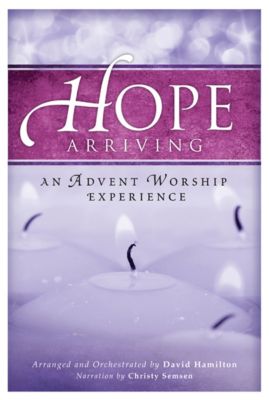 Hope Arriving Choral Book
Specifications
Binding

Paperback

Height

0.20

Length

10.25

Width

6.90

Language

English

Medium Format

Print

Pages

72

Product Group

Music for Worship

Type

Songbook

Publisher

Word

Item Number

005529311

UPC

080689467172

Contributors

Hamilton, David (Arranged by) , Semsen, Christy (Narrated by) , Hamilton, David (Orchestrated by)