Here We Are - Choral Book
Ressem, Ray (Created by)
Description
Here We Are gets your kids ministering to people right there in your church with upbeat and meaningful music. Centering on the themes of Love, Belief, Grace & Praise, the kids explore through scripture and song how anyone, at anytime, can be a part of the family of God. The easy to stage drama involves mostly one-liners that can be given to any number of children.
This mission-oriented musical draws the audience in as they learn that the love and grace of God coupled with our belief is indeed something to be praised. The title song, "Here We Are" wraps the musical up with a touching chorus that the kids lead making the song a great addition to any church's worship music following the performance. The other music features driving electronic beats and modern rock as well as a great new arrangement of the classic hymn, "Amazing Grace" that the congregation can join in on.
Here We Are is an easy evangelistic musical that gives kids the chance lead worship and to talk about Jesus, and it's perfect for an evening, morning or special kids service. Invite friends and neighbors who need to hear the simple truths of God through the mouths of young energetic children. You won't regret it!
Bulk Pricing
Buy 10–49 for $4.79 each
Buy 50–99 for $4.49 each
Buy 100–up for $4.19 each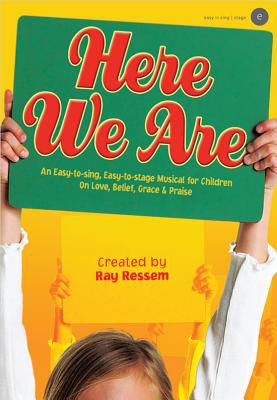 Here We Are - Choral Book