He Lives; A 20-Minute Mini-Musical Arranged Especially for Unison/2-Part Choir
Crumpton, Johnathan (Created by) , Smith, Sue C. (Narrated by)
Description
From Simple Series Easter, He Lives is arranged speciffically for unison/2-part choirs. Created by Johnathan Crumpton and featuring narrations by Sue C. Smith, it helps the power of His resurrection come alive for congregants as your choir presents this magnificent Easter musical celebration. He Lives is filled with classic hymns and songs celebrating the passion and power of the Easter story. It is ideal for volunteer choirs with limited rehearsal time and resources. 20 minutes. Easy. Unison/2-part. (Brentwood-Benson)
Bulk Pricing
Buy 10–49 for $5.59 each
Buy 50–99 for $5.24 each
Buy 100–up for $4.89 each
Please call 1-800-368-7421 to order.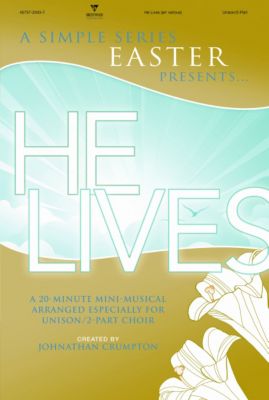 He Lives; A 20-Minute Mini-Musical Arranged Especially for Unison/2-Part Choir
Free Downloads
Right-click on the link. Select the "Save Target As", "Save Link As", or "Download Linked File As" option on the popup menu. Choose a location to save the file, then click the Save button.
Sample Track 2 (0.901 MB MP3)
Sample Track 3 (1.602 MB MP3)
Sample Track 4 (1.153 MB MP3)
Sample Track 1 (1.331 MB MP3)
Specifications
Binding

Paperback

Height

0.12

Length

10.25

Width

6.90

Genre

Gospel

Language

English

Medium Format

Print

Pages

39

Performance Type

Choir

Product Group

Music for Worship

Type

Songbook

Publisher

Brentwood Music

Voicing

Unison/2-Part

Item Number

005492336

UPC

645757204372

Contributors

Crumpton, Johnathan (Created by) , Smith, Sue C. (Narrated by)