Hallelujah Praise the Lamb Simple Easter DVD Split Track
Kee (Composer) , Crumpton, Johnathan (Created by) , Kee, Ed (Created by)
Description
At Passover in the time of Christ, thousands of lambs would be slain and their blood offered on the altar as the means of atonement for sin. When Jesus shed His innocent blood on the cross, He became the ultimate sacrifice once and for all, taking upon Himself the penalty for the sin of every man and offering eternal life in return. For such a sacrifice, there is only one appropriate response: Hallelujah! Praise the Lamb! This musical for Easter celebrates the timeless truth that God Himself became the Lamb whose blood was shed that we might be reconciled to God and have eternal life. This is the Easter story: He died. He rose again. He lives forever–and so shall we. 20 minutes. Easy. Unison/Two-part.
Bulk Pricing
Buy 10–49 for $119.99 each
Buy 50–99 for $112.49 each
Buy 100–up for $104.99 each
Please call 1-800-368-7421 to order.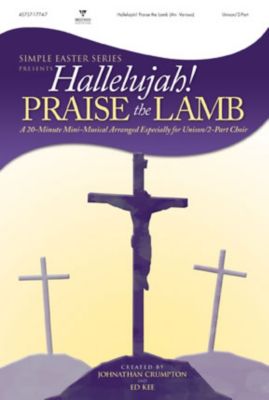 Hallelujah Praise the Lamb Simple Easter DVD Split Track
Specifications
Height

0.50

Length

7.50

Width

5.30

Genre

Inspirational

Language

English

Medium Format

DVD

Performance Type

Solo

Product Group

Music for Worship

Type

Accompaniment Track

Publisher

Brentwwod Music

Difficulty

Easy

Item Number

005281688

UPC

645757177461

Contributors

Kee (Composer) , Crumpton, Johnathan (Created by) , Kee, Ed (Created by)