Growing Weary Doing Good?: Encouragement for Exhausted Women
Worley, Karla (Author)
Description
"In the same way," Jesus said, "your life is in Me. Apart from Me you can produce nothing."
A minister's wife involved in more church activities than she could count, Karla Worley was suddenly hospitalized with a panic attack. In the forced rest that followed, she learned what matters. To live is Christ, and everything else is no life at all.
Throughout the Bible, God satisfied His people's hunger for rest and intimacy with Him. Worley draws insightful parallels between God's provision for rest and the freedom we find in surrendering control and working on His timetable. This is not a book about prioritizing your daily planner, but about realigning yourself under Christ's Lordship and finding life that was meant to be.
"I don't find any job descriptions listed for heaven," Worley writes, "except one: We will all worship Him. And no one will be weary."
"Life is our rehearsal. Practice for heaven."
Bulk Pricing
Buy 10–49 for $8.99 each
Buy 50–99 for $8.49 each
Buy 100–up for $7.99 each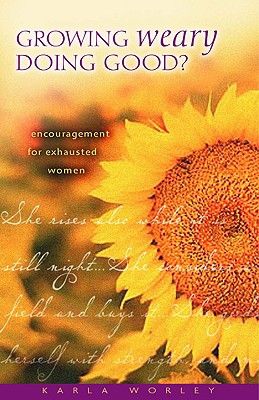 Growing Weary Doing Good?: Encouragement for Exhausted Women
Specifications
Height

0.45

Length

8.50

Width

5.50

Language

English

Medium Format

Print

Product Group

Books

Type

Non-Fiction

Publication Date

2001-03-01

Publisher

B&H Publishing Group

Item Number

001077706

ISBN10

156309438X

ISBN13

9781563094385

Contributors

Worley, Karla (Author)