Group Insights - Leader Kit
Donahue, Bill (Author) , Parrott, Les (Author)
Description
Group Insights - Leader Kit is designed to help leaders maximize their group's experience with the Small Group Insights Profile (SGIP), an online tool that assesses participants' communication styles, which fosters deeper engagement, authenticity, and connection. All groups desire to function in healthy and productive ways. And every group leader is looking for all the help they can find to effectively connect their group members with each other and deepen their engagement with the group. This Kit was created to help leaders get the most out of the SGIP.
Content of the video segments includes:
A Message for Group Leaders
What is Group Insights?
Sharing Your Group Style
Going Deeper with Your Personal Style
Exploring Communication Preferences
Revisiting Your Group Styles
Promo for the Congregation
Promo for Sunday School Classes
The Kit includes a leader guide that, along with the DVD, will help facilitate an excellent group experience: getting started, keeping the big picture in mind, what you need to know about each group member, how to leverage your own profile, and how to use in Sunday School.
Features:
Kit includes DVD, Leader Guide, and an access code to enable the leader to receive his or her own personal profile.
Leader Guide includes direction for effectively leading a group through the Small Group Insights Profile (SGIP) and in sharing the results for better group cohesion and understanding.
Authors: Les Parrott and Bill Donahue
Dr. Les Parrott is the founder of the Center for Relationship Development on the campus of Seattle Pacific University. He is also an award-winning author of many best-selling books, including "Saving Your Marriage Before It Starts" and "High-Maintenance Relationships."
Dr. Bill Donahue is a best-selling author, consultant, and strategic voice for biblical community worldwide. Bill has written numerous studies, including "Building Biblical Community" and "Leading Life-changing Small Groups."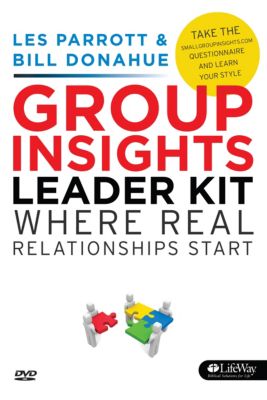 Group Insights - Leader Kit
Specifications
Height

0.60

Length

7.50

Width

5.40

Language

English

Product Group

Bible Study

Type

Leader Kit

Publication Date

2011-12-01

Publisher

LifeWay Christian Resources

Item Number

005487574

ISBN10

1415872775

ISBN13

9781415872772

UPC

634337253152

Contributors

Donahue, Bill (Author) , Parrott, Les (Author)