Good Ol' Gospel - Songbook
Lister, Mosie (Arranged by) , Lister, Mosie (Author) , Lister, Mosie (Composer)
Description
Thirty-five all-time favorite gospel songs from award-winning composer Mosie Lister in one souvenir songbook. Includes historic photos, as well as stories behind several of his songs. Straight 4-part arrangements.
Featured songs are: "Goodby, World, Goodby," "Then I Met the Master," "While Ages Roll," "I've Been Changed," "His Hand In Mine," "I'm Feeling Fine," "'Til the Storm Passes By," "Happy Rhythm," "How Long Has It Been?" and "At the Crossing."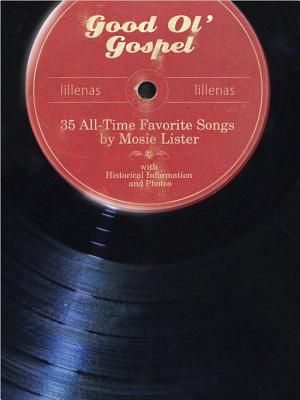 Good Ol' Gospel - Songbook
Free Downloads
Right-click on the link. Select the "Save Target As", "Save Link As", or "Download Linked File As" option on the popup menu. Choose a location to save the file, then click the Save button.
Product Sample (0.038 MB JPG)
Product Sample (0.030 MB PDF)
Specifications
Height

0.25

Length

12.00

Width

9.00

Genre

Gospel

Language

English

Medium Format

Print

Performance Type

Choir

Product Group

Music for Worship

Type

Songbook

Publication Date

1994-06-24

Voicing

SATB

Item Number

001087640

ISBN10

0834190680

ISBN13

9780834190689

Contributors

Lister, Mosie (Arranged by) , Lister, Mosie (Author) , Lister, Mosie (Composer)