Good News Medley - Downloadable Split-Track Accompaniment Track
Hammerly, Jim (Arranged by) , Hammerly, Jim (Orchestrated by)
File Type: MP3
Description
Downloadable Anthem Split-Track Accompaniment Track - MP3
INCLUDES: Good Christian Men, Rejoice; Sing We Now of Christmas; Go, Tell It on the Mountain; and Joy to the World.
Please note this track does not include rehearsal cues.
A Note About Downloadable Audio Files:
Downloadable Audio Files are sold individually, and you don't have to wait or pay for shipping! Simply enter the quantity of tracks you would like to purchase for your ministry and check out. When you receive the file, please only burn or transfer to portable devices the same number of tracks that you have purchased. Your participation and cooperation in this process helps us continue to innovate and bring you the newest and best songs, combined with the newest and best technology so that your church can deliver the life-changing message of the gospel to your community!
$9.99 per Director/Teacher/Leader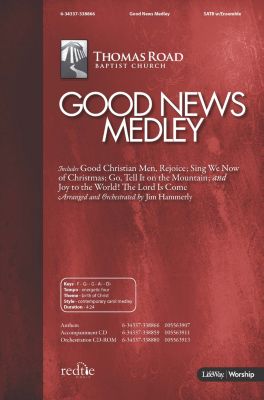 Good News Medley - Downloadable Split-Track Accompaniment Track
Specifications
Age Max

0

Age Min

0

Genre

Contemporary

ISRC

US2GY1200047

Language

English

Medium Format

Audio Download

Performance Type

Choir

Product Group

Music for Worship

Type

Accompaniment Track

Publication Date

2013-05-01

Publisher

LifeWay Worship

Voicing

SATB w/solo

Item Number

005587788

UPC

634337347370

Contributors

Hammerly, Jim (Arranged by) , Hammerly, Jim (Orchestrated by)