God Made You Special!
Fritz, Greg (Author)
Description
Join Bob and Larry and their friends as they spread the joyful message to children that God made each of us special! Here, the lyrics to this favorite VeggieTales song are illustrated with a cast of familiar characters and paired with a sound button that provides musical fun. The book also features a mirror so children can see themselves as they read the words, 'God made you special and he loves you very much!'
Available Formats
Board Book, Board Book

$12.99
Bulk Pricing
Buy 10–49 for $11.69 each
Buy 50–99 for $11.04 each
Buy 100–up for $10.39 each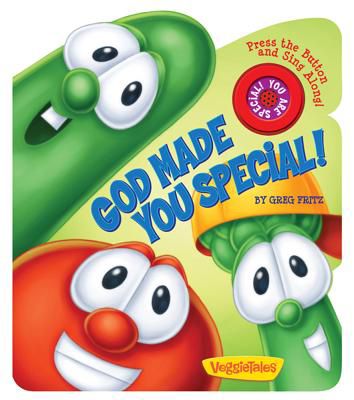 God Made You Special!
Specifications
Age Max

4

Age Min

2

Height

0.70

Length

8.10

Width

8.10

File Size

0

Language

English

Medium Format

Board Book

Pages

16

Product Group

Books

Type

Board Book

Publication Date

2010-02-01

Publisher

Candy Cane Press

Item Number

005291411

ISBN10

0824918371

ISBN13

9780824918378

Contributors

Fritz, Greg (Author)