Game Plan for Life Volume 2 - Member Book
No Game Plan. No Victory
Gibbs, Joe (Author)
Description
Joe Gibbs, legendary coach of the Washington Redskins and owner of Joe Gibbs Racing, and some of his closest friends looked at the most important issues facing men today and what every man needs to know to be victorious in the game of life. Through solid biblical teaching and discussion, this curriculum kit will help men discover the key principles vital to living a victorious life. (6 sessions)
Features:
Each session includes video segments featuring Joe and a noteworthy expert on that week's topic
Joe's team of experts includes Tony Evans, Randy Alcorn, Don Meredith, Os Guinness, and Walt Larimore
Sports-magazine design
Short and engaging personal study sections
Daily devotionals
Ideal for small groups
Leads men through key areas of modern-day life, to equip them to live victorious lives based on the ultimate playbook—the Bible
About the Author:
Only a fortunate few can rise to the top in an elite, highly competitive profession. Joe Gibbs has done it twice—in two dramatically different sports: football and stock-car racing. He was the coach of the Washington Redskins during their decade of dominance in the 1980s (and again from 2004-2008). He's also the owner of Joe Gibbs Racing, another dominant presence in NASCAR. But Joe is keenly aware that his legacy is not about what he does but Who he knows. And his passion is to lead other men to the Source of his life's victories — Jesus Christ.
Available Formats
Paperback, Non-Fiction

$8.99

$79.99

$14.99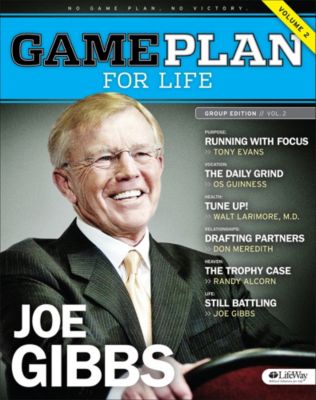 Game Plan for Life Volume 2 - Member Book
Free Downloads
Right-click on the link. Select the "Save Target As", "Save Link As", or "Download Linked File As" option on the popup menu. Choose a location to save the file, then click the Save button.
Product Sample (3.743 MB PDF)
Specifications
Age Min

18

Binding

Paperback

Height

0.35

Length

7.50

Width

9.50

File Size

0

Language

English

Medium Format

Paperback

Pages

128

Product Group

Books

Type

Non-Fiction

Publication Date

2011-07-01

Publisher

LifeWay Christian Resources

Sessions

6

Item Number

005371575

ISBN10

1415869820

ISBN13

9781415869826

Contributors

Gibbs, Joe (Author)