For the Glory of the King Choral Book
Various (Artist) , Trofimov, Zhores Aleksandrovich (Author) , Gambill, Luke (Created by) ...View All Contributors
Description
The stage is set in red and green, the children's choir is waiting in the wings, the script is written, and the narrators are set and ready to go — well, all but one. That's the set-up for the new Simple Plus Christmas musical for kids, For the Glory of the King. "I wonder what presents I'll receive for Christmas." That's the thought burning through the minds of most children in the days leading up to Christmas, and it's the same one Bradley is dealing with. Join Abigal, Emily, and Alex as they remind Bradley of the real meaning of Christmas. 22 minutes.
Bulk Pricing
Buy 10–49 for $5.59 each
Buy 50–99 for $5.24 each
Buy 100–up for $4.89 each
Please call 1-800-368-7421 to order.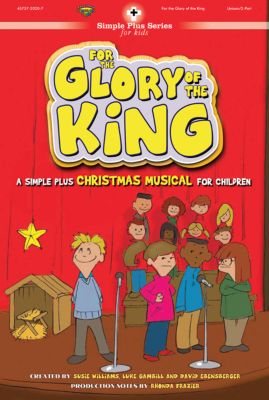 For the Glory of the King Choral Book
Specifications
Binding

Paperback

Height

0.12

Length

10.20

Width

6.90

Language

English

Medium Format

Print

Product Group

Music for Worship

Type

Choral Book

Publisher

Brentwood Kids Music

Item Number

005465551

UPC

645757202071

Contributors

Various (Artist) , Trofimov, Zhores Aleksandrovich (Author) , Gambill, Luke (Created by) , Williams, Susie (Created by)