FLYTE: faith. life. together. Volume 6 - Leader Guide
Lifeway Church Resources (Author) , Lifeway Kids (Author)
Bible study curriculum for preteens ages 10-12.
Description
FLYTE: faith. life. together. Volume 6 - Leader Guide includes:
13 teaching plans
Personal Bible study for leaders
Tips for leading preteens
Fellowship ideas
Benefits:
Helps preteen leaders pull off each session with ease
Includes personal Bible study points for leaders
FLYTE is a Bible study curriculum for kids ages 10-12, that speaks to what they are dealing with right now. Each volume includes 13 simple to execute sessions. As the culture around preteens continues to inundate them with worldly messages, FLYTE is the resource for churches to walk alongside preteens in helping them develop a godly worldview - combining faith and life. FLYTE enables leaders to cater to the specific needs of preteens, while equipping leaders with fresh video content, sound Bible study, and life applications relevant to their preteens. (13 sessions)
FLYTE Volume 6
Unit 1: Defense
What do Christians believe about God?
Who is Jesus?
Is Jesus the only way?
What happens when Christians die?
Unit 2: Decisions
Who decides?
What are my options?
How do I follow through?
Am I on my own?
Unit 3: Fair Play
Does what I say matter?
Am I a thief?
Why is it so hard to tell the truth?
Can't they take a joke?
Bonus: Christmas (Apologetics)
Features:
Gives leaders step-by-step instructions in leading preteens
Provides dynamic videos for each session that preteens will enjoy watching
Provides cool bumper videos leaders can use to generate excitement
Provides bonus Bible study background clips
Includes fellowship ideas
Great content for helping teachers and parents to deal with difficult subject matter
Weekly parent letters help parents stay connected to what their preteens are learning
Available Formats
Paperback, Non-Fiction

$9.95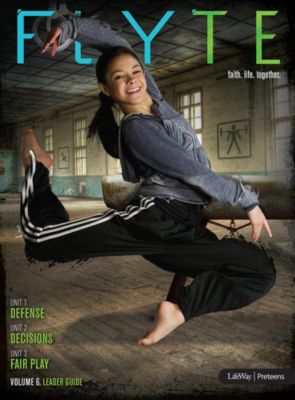 FLYTE: faith. life. together. Volume 6 - Leader Guide
Bible study curriculum for preteens ages 10-12.
Free Downloads
Right-click on the link. Select the "Save Target As", "Save Link As", or "Download Linked File As" option on the popup menu. Choose a location to save the file, then click the Save button.
Product Sample (5.279 MB PDF)
Specifications
Age Max

12

Age Min

10

Binding

Paperback

Height

0.20

Length

9.50

Width

7.00

File Size

0

Language

English

Medium Format

Paperback

Pages

88

Product Group

Bible Study

Type

Non-Fiction

Publication Date

2012-09-03

Publisher

LifeWay Christian Resources

Sessions

13

Item Number

005399879

ISBN10

1415870659

ISBN13

9781415870655

Contributors

Lifeway Church Resources (Author) , Lifeway Kids (Author)