FLYTE: faith. life. together. Volume 4 - Leader Kit
Lifeway Church Resources (Author) , Lifeway Kids (Author)
Bible study curriculum for preteens ages 10-12.
Description
FLYTE: faith. life. together. Volume 4 - Leader Kit is a Bible study curriculum for kids ages 10-12, one that speaks to what they're dealing with right now — not what's past or in their future. Each volume includes 13 simple to execute sessions. As the culture around preteens continues to inundate them with worldly messages, FLYTE is the resource for churches to walk alongside preteens in helping them develop a godly worldview—combining faith and life. FLYTE enables leaders to cater to the specific needs of preteens, while equipping leaders with fresh video content, sound Bible study, and life applications relevant to their preteens. (13 sessions)
Unit 1: God's Word
Where did the Bible come from?
Is that it?
How do I use it?
Can it be fun?
Unit 2: Me, Myself, and I
Why should I care?
Don't I deserve it?
Who am I trying to please?
Who is really in charge?
Unit 3: World
What is poverty and how does it affect the world?
What is terrorism?
What is global warming? Should I worry?
Am I safe through global disasters?
Bonus: Bible Skills Games
Leader Kit contains:
Leader Guide
Learner Magazine
DVD with videos for each session, plus bumper videos
CD-ROM with teacher helps, fellowship ideas, and more
Features:
Gives leaders step-by-step instructions in leading preteens
Provides dynamic videos for each session that preteens will enjoy watching
Provides cool bumper videos leaders can use to generate excitement
Provides bonus Bible study background clips
Includes fellowship ideas
Great content for helping teachers and parents to deal with difficult subject matter
Weekly parent letters help parents stay connected to what their preteens are learning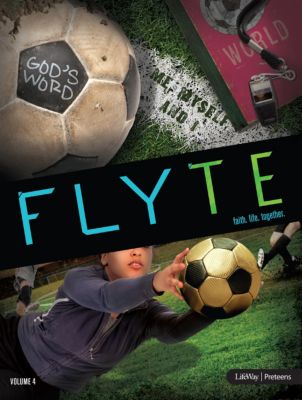 FLYTE: faith. life. together. Volume 4 - Leader Kit
Bible study curriculum for preteens ages 10-12.
Specifications
Binding

Hardcover

Height

0.57

Length

9.90

Width

7.30

File Size

0

Language

English

Medium Format

Print

Pages

0

Product Group

Books

Type

Leader Kit

Publication Date

2012-03-01

Publisher

LifeWay Christian Resources

Sessions

13

Item Number

005397460

ISBN10

1415870489

ISBN13

9781415870488

UPC

634337182629

Contributors

Lifeway Church Resources (Author) , Lifeway Kids (Author)