FIGHT: Are You Willing to Pick a Fight with Evil? - Workbook
Luck, Kenny (Author)
Description
Many men ignore the dangerous spiritual war surrounding them. And that willing surrender ensures the total destruction of all they hold dear. This eight-session study can help men respond to the fight with boldness and duty. This workbook will equip men-in a devotional setting, accountability partner setting, and in group-to do spiritual battle with the enemy. This includes recognizing the deceptions about doing true spiritual battle, realizing the roles men play at the front lines, and rescuing the captives from the enemy's stronghold.
Features include:
A Get Strong study
Video-driven Bible study
8 group sessions
Available Formats
Paperback, Study Guide

$10.99

$10.99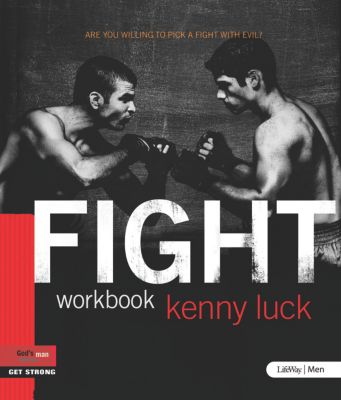 FIGHT: Are You Willing to Pick a Fight with Evil? - Workbook
Free Downloads
Right-click on the link. Select the "Save Target As", "Save Link As", or "Download Linked File As" option on the popup menu. Choose a location to save the file, then click the Save button.
Product Sample (6.228 MB PDF)
Specifications
Age Min

18

Binding

Paperback

Height

0.40

Length

9.00

Width

7.60

File Size

0

Language

English

Medium Format

Paperback

Pages

160

Product Group

Books

Type

Study Guide

Publication Date

2012-10-01

Publisher

LifeWay Christian Resources

Sessions

8

Item Number

005469701

ISBN10

1415871949

ISBN13

9781415871942

Contributors

Luck, Kenny (Author)