Faith Limps: Trusting a Good God in a Broken World - DVD Leader Kit
Kelley, Michael (Author)
Description
Faith Limps: Trusting a Good God in a Broken World by Michael Kelley is a 6-session Bible study for adults that helps believers respond to suffering by confronting their questions and doubts and by placing their faith in God. This study is designed to help people confront the difficult issues surrounding pain and disappointment and see their suffering as an opportunity for a deeper walk with God in Christ.
Pain is common to every person's experience, and God is very concerned with how we process that pain. This study will help people own up to their pain, confront questions and doubts, and process their experiences in light of a faith relationship with a good and loving God. As participants begin to see their pain from God's viewpoint, they can engage the pain, allow God to walk with them through it, and move toward healing.
Features
Two DVDs providing brief comments by author Michael Kelley for use in six group sessions
One Faith Limps Member Book
One trade book "Wednesdays Were Pretty Normal" by Michael Kelley
Benefits:
Encourages believers to examine the issues surrounding suffering, such as pain, identity, doubt, and faith
Guides believers to assess their suffering from a biblical point of view
Discusses ways God redeems pain and brings healing
Guides believers to understand how pain alters their walk with God
Shows believers how God can use suffering to increase their faith
Author:
Michael Kelly lives in Nashville, Tennessee, with his wife, Jana, and kids, Joshua, Andi, and Christian. He grew up in Texas and earned a Master of Divinity at Beeson Divinity School in Birmingham, Alabama. He has written Holy Vocabulary: Rescuing the Language of Faith.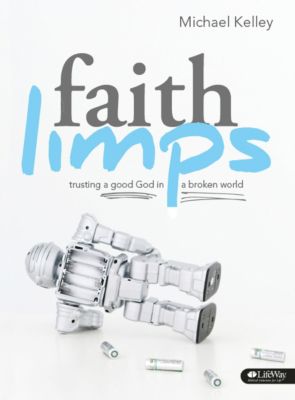 Faith Limps: Trusting a Good God in a Broken World - DVD Leader Kit
Specifications
Binding

Hardcover

Height

2.20

Length

10.00

Width

7.50

File Size

0

Language

English

Medium Format

Hardcover

Pages

240

Product Group

Books

Type

Leader Kit

Publication Date

2012-03-01

Publisher

LifeWay Christian Resources

Sessions

5

Item Number

005471379

ISBN10

1415872201

ISBN13

9781415872208

UPC

634337221441

Contributors

Kelley, Michael (Author)