Estudio Bíblico Vidas Valientes
Catt, Michael (Author) , Hunt, T.W. (Author) , Kendrick, Alex (Author) ...View All Contributors
Description
El estudio bíblico se basa en la película Valientes, el cuarto estreno del ministerio cinematográfico de la Iglesia Bautista Sherwood en Albany, Georgia, que se une a las películas best sellers A prueba de fuego y Enfrentando a los Gigantes para tocar los corazones e impactar las vidas a través de sinceras historias de fe y esperanza. (Sesiones: Cuatro)
Aspectos que enfoca el estudio:
Responsabilidad: Servir, proteger y lanzar una visión para la familia
Prioridades: Enfocar las cosas eternas en vez de lo que es temporal
Legado: Reconocer el impacto del potencial del padre como el modelo de una vida sometida a Dios
Fe: Aumentar la sabiduría y el fortalecimiento de la identidad del padre en Cristo
La película: Este drama policiaco lleno de acción relata la historia de cuatro agentes de la policía que tienen confianza y encaran los peores peligros de las calles. Pero en el hogar, ¿guían ellos sus familias de una manera que honre a Dios? Para eso hay que ser valiente. De la misma manera que las iglesias y las personas lo han hecho con otras películas de Sherwood, esta brinda una gran oportunidad para alcanzar social y espiritualmente a las amistades, vecinos y compañeros de trabajo invitándolos a asistir a la proyección, a un sermón relacionado con la película el domingo por la mañana, una actividad del ministerio de los hombres o un pequeño grupo de estudio bíblico.
English Description
Courageous Living Bible Study - Member Book provides the participant a personal guide for this 4-week Bible study to help strengthen families and fathers. The Bible study is designed around "Courageous" the fourth release from the moviemaking ministry of Sherwood Baptist Church in Albany, Georgia and joins previous best sellers "Fireproof" and "Facing the Giants" to touch hearts and impact lives through heartfelt stories of faith and hope.
Study Focus Areas:
Responsibility — serving, protecting, and casting a vision for the family
Priorities — focusing on eternal things rather than what is temporary
Legacy — recognizing a father's potential impact as a godly role model
Faith — increasing in wisdom and strengthening a father's identity in Christ
The Movie: Filled with action-packed police drama, this is the story of four law officers who are confident and focused when standing up to the worst the streets have to offer. But leading their families at home in a God-honoring way? That takes courage. As churches and individuals have done with other Sherwood pictures, this movie provides a great opportunity to reach out socially and spiritually to friends, neighbors, and co-workers by inviting them to attend a screening, a related Sunday morning sermon, men's ministry event, or small-group Bible study.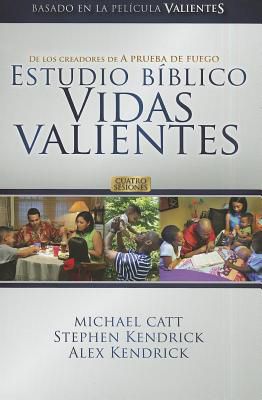 Estudio Bíblico Vidas Valientes
Specifications
Binding

Paperback

Height

0.20

Length

9.00

Width

6.00

File Size

0

Language

Spanish

Medium Format

Paperback

Pages

64

Product Group

Bible Study

Type

Study Guide

Publication Date

2012-02-01

Publisher

B&H Publishing Group

Item Number

005271303

ISBN10

1415868867

ISBN13

9781415868867

Contributors

Catt, Michael (Author) , Hunt, T.W. (Author) , Kendrick, Alex (Author) , Kendrick, Stephen (Author) , King, Claude V. (Author) , Sherwood Baptist Church (Author)