Ella's Wish
Eicher, Jerry S. (Author)
Description
Ella Yoder has moved into her dream house. In the stillness of the great house, Ella ponders her options. How is she to survive on her own? How will she ever forget Aden? What is to become of her?
Two would-be suitors soon make their intentions known, but Ella is unsure of her own feelings. As she agrees to take care of Preacher Stutzmana (TM)s three motherless girls, Ellaa (TM)s heart is touched by their love for her. Could their affection be the answer to Ellaa (TM)s quest? Can God speak through the love of a child?
Readers of Amish fiction will fall in love themselves with Ella Yoder and hope with her that she finds the love and happiness she seeks.
About this series: Readers of Amish fiction will delight in this second book in a series about young Ella Yoder as she copes with the loss of her true love. Author Jerry Eichera (TM)s sales now top more than 100,000.

Available Formats
$9.99

Paperback, Fiction

$16.99
Bulk Pricing
Buy 10–49 for $15.29 each
Buy 50–99 for $14.44 each
Buy 100–up for $13.59 each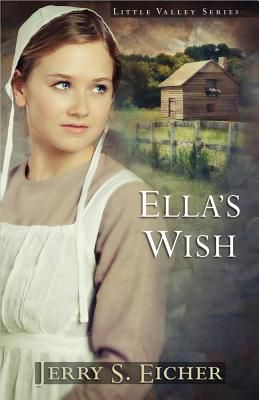 Ella's Wish
Specifications
Age Max

0

Age Min

0

Height

1.00

Length

8.00

Width

6.00

File Size

0

Language

English

Medium Format

Paperback

Pages

274

Product Group

Books

Type

Fiction

Publication Date

2011-04-01

Publisher

Harvest House Publishers

Item Number

005354305

ISBN10

0736928057

ISBN13

9780736928052

Contributors

Eicher, Jerry S. (Author)