Don't Be Scared! - Choral Book
Moore, Betty Dale (Arranged by) , Moore (Composer) , Moore, Bette Dale (Created by) ...View All Contributors
Description
Don't Be Scared! is a delightful preschool Christmas program that is incredibly easy for tiny tykes to learn. And perhaps even better it's just as easy for the teachers to teach!
Corresponding scriptural memory verses
Short lesson for spiritual application
Pre-primary musical concepts
In-class demos for each musical concept on CD
Full of movement and humor, Don't Be Scared! tells the story of Jesus' birth—beginning with Old Testament prophecy, and ending in Bethlehem at the manger.
Perfect for the limited vocal range and attention span of our "littlest performers," this 15 minute program consists of five simple songs. "He'll Come Down" and "All the Way to Bethlehem" are both piggybacked onto familiar nursery tunes while the kids will love singing boldly to the characters throughout the story "Fear Not" to the tune of the William Tell Overture.
Don't Be Scared! is so much more than just another "cute kiddie program". Through songs, narration, movement, and role-playing (they get to be angels, shepherds and even animals in a stable!), preschoolers learn that God's children are never really "alone." God loves us so much that He sent Jesus to live with us, and in us,,,to take away our fear.
Bulk Pricing
Buy 10–49 for $15.99 each
Buy 50–99 for $14.99 each
Buy 100–up for $13.99 each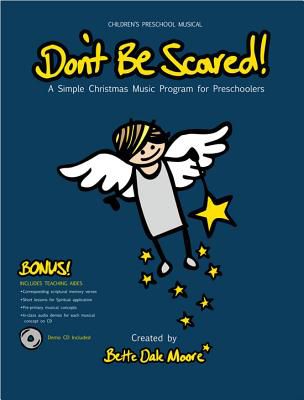 Don't Be Scared! - Choral Book