Creature of the Word
The Jesus-Centered Church
Chandler, Matt (Author) , Geiger, Eric (Author) , Patterson, Josh (Author)
Description
Creature of the Word examines the rich, scripture-based beauty of a gospel-centered church and then clearly provides practical steps toward forming a gospel-centered church. Authors Matt Chandler, Eric Geiger, and Josh Patterson write what will become a centering discussion piece for those whose goal is to be part of a church that has its theology, culture, and practice completely saturated in the gospel.
The Reformers viewed the gospel as not merely one thing among many in the life of a church but rather the means by which the church exists. When the gospel is rightly declared and applied to God's people, the church becomes "a creature of the Word." She understands, embraces, and lives out the reality of Christ's birth, life, death, and resurrection in more than her doctrinal statement. The gospel impacts all the church is and does.
Available Formats
Paperback, Non-Fiction

$14.99

$9.99
Bulk Pricing
Buy 1–9 for $14.99 each
Buy 10–49 for $13.49 each
Buy 50–99 for $12.74 each
Buy 100–up for $11.99 each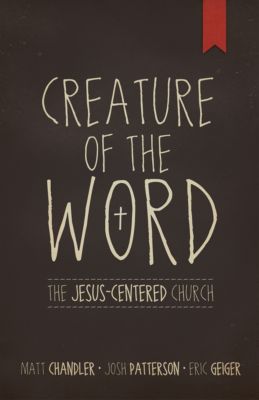 Creature of the Word
Free Downloads
Right-click on the link. Select the "Save Target As", "Save Link As", or "Download Linked File As" option on the popup menu. Choose a location to save the file, then click the Save button.
Creature of the Word Trailer (25.421 MB MP4)
1st Chapter Sample (8.490 MB PDF)
Specifications
Binding

Paperback

Height

0.65

Length

8.50

Width

5.50

File Size

0

Language

English

Medium Format

Paperback

Pages

242

Product Group

Books

Type

Non-Fiction

Publication Date

2012-10-01

Publisher

B&H Publishing Group

Item Number

005514775

ISBN10

1433678624

ISBN13

9781433678622

Contributors

Chandler, Matt (Author) , Geiger, Eric (Author) , Patterson, Josh (Author)