Changed by a Baby Boy Choral Book
Goss, Lari (Arranged by) , Allen, Nan (Narrated by) , Goss, Lari (Orchestrated by)
Description
Changed by a Baby Boy rejoices in how God's miraculous plan impacted the world both then and now. Arranged and orchestrated by Grammy and Dove Award-winning Lari Goss, it also features narration from veteran writer Nan Allen. The result is a seamless Christmas worship experience that features "foot-stomping" songs to heartfelt, soaring ballads. 42 minutes. Moderate. SATB.
Bulk Pricing
Buy 10–49 for $7.16 each
Buy 50–99 for $6.71 each
Buy 100–up for $6.27 each
Please call 1-800-368-7421 to order.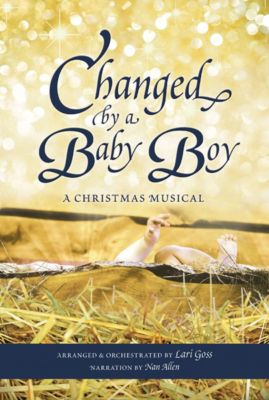 Changed by a Baby Boy Choral Book
Specifications
Binding

Paperback

Height

0.30

Length

10.25

Width

6.80

Language

English

Medium Format

Print

Pages

128

Product Group

Music for Worship

Type

Songbook

Publisher

Word

Item Number

005529304

UPC

080689464171

Contributors

Goss, Lari (Arranged by) , Allen, Nan (Narrated by) , Goss, Lari (Orchestrated by)