Called to Lead
26 Leadership Lessons from the Life of the Apostle Paul
MacArthur, John (Author) , MacArthur, John F. (Author)
Description
John MacArthur, best-selling author and renowned pastor and teacher, draws 26 powerful leadership characteristics from the Life of the apostle Paul.
Is leadership a title? Authority? Charisma? Whatever gets the best results? More than ever, Christians need a model of leadership that is based on God's Word, that brings Him glory while accomplishing success, growth, service to others, personal and professional development, and more.
In 'Called to Lead,' best-selling author, pastor, and teacher John MacArthur explains the characteristics of a leader drawn from one of the Bible's most renowned leaders, the apostle Paul. Focusing on Paul's epistles, 'Called to Lead' gives a biblically sound explanation of the twenty-six key qualities of a leader who can achieve results without forfeiting faith and obedience.
Available Formats
Paperback, Non-Fiction

$15.99

$6.99
Bulk Pricing
Buy 10–49 for $14.39 each
Buy 50–99 for $13.59 each
Buy 100–up for $12.79 each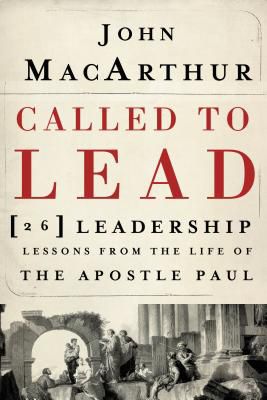 Called to Lead
Specifications
Age Max

0

Age Min

0

Height

0.70

Length

8.30

Width

5.40

File Size

0

Language

English

Medium Format

Paperback

Pages

240

Product Group

Books

Type

Non-Fiction

Publication Date

2010-09-01

Publisher

Thomas Nelson Publishers

Item Number

005323053

ISBN10

1400202868

ISBN13

9781400202867

Contributors

MacArthur, John (Author) , MacArthur, John F. (Author)