Breath for the Bones: Art, Imagination, and Spirit: Reflections on Creativity and Faith
Shaw, Luci (Author)
Description
The double questionwe must always ask is, How does faith inform art? and How can art animate faith?

Imagination, appreciation of beauty, creativity: all of these qualities have beengiven to us by God. For the Christian artist, the drive to create somethingwonderful is also a means to glorify and better understand our Lord. Usingexcerpts from her own works as well as those of writers who have gone beforeher Emily Dickinson, Annie Dillard, C.S. Lewis, and others poet and writerLuci Shaw proves that symbolism and metaphor provide ways for humans toexperience God in new and powerful ways.

Shaw offers a rich and thought-provoking exploration of art, creativity, andfaith. Believing that art emanates from God, she shows how imagination andspirituality work in tandem, each feeding on and nourishing the other. Faithinforms art and art enhances faith. They both, for each other, are breath forthe bones.

Provocative, enlightening, and above all, inspiring, Breath for the Boneswillhelp readers discover the artist within, and bring them further along the pathto God Himself.

Include s Discussion Questions andWriting Exercises

"
Available Formats
Paperback, Non-Fiction

$15.99

$6.99
Bulk Pricing
Buy 10–49 for $14.39 each
Buy 50–99 for $13.59 each
Buy 100–up for $12.79 each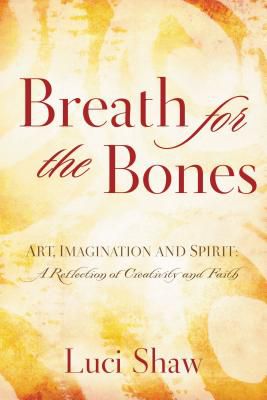 Breath for the Bones: Art, Imagination, and Spirit: Reflections on Creativity and Faith
Specifications
Age Max

0

Age Min

0

Height

0.60

Length

8.40

Width

5.40

File Size

0

Language

English

Medium Format

Paperback

Pages

206

Product Group

Books

Type

Non-Fiction

Publication Date

2009-08-01

Publisher

Thomas Nelson Publishers

Item Number

005271594

ISBN10

0849929644

ISBN13

9780849929649

Contributors

Shaw, Luci (Author)