Biblioteca de Ayuda Ministerial CD-ROM - Vol. 1
Various (Author)
Description
La Biblioteca de Ayuda Ministerial CD-ROM - Vol. 1 es un CD-ROM que contiene trece libros relacionados con los siguientes tópicos: doctrina, estudio bíblico y administración de la iglesia. Estos libros fueron publicados en el pasado por LifeWay Church Resources y ya no están disponibles en forma de libro. El formato del CD permite hacer búsquedas en cada libro por nombres, tópicos y palabras clave. Este es un recurso ideal para pastores, lí laicos y creyentes interesados en su crecimiento espiritual o en la preparación para guiar grupos de estudio bíblico, estudios en grupos pequeños o cualquier otro grupo. Se presenta en un formato Acrobat y se incluye en el CD un lector Acrobat para PC y para MacIntosh.

La doctrina del Señorío de Cristo
El pastor en la iglesia de hoy
Efesios un cuerpo en Cristo
La doctrina de la salvación
Isaías: Dios es salvación mía
La doctrina de la Biblia
La doctrina del fin
2 Corintios: Comisionados para servir Socios con Dios
La doctrina del sacerdocio de los creyentes
Cómo enseñar en la Escuela Dominical
Gálatas: Salvo por gracia
El plan del ministerio familiar del diácono

Library of Ministry Helps, Vol. 1 is a CD-ROM compilation of 13 books related to doctrine study, Bible study, and church administration. These books were previously published by LifeWay Church Resources and are no longer available as individual titles. The CD format allows for searches by names, topics, and key words in each book. It is an ideal resource for Hispanic pastors, lay leaders, and Christians in their personal study or when preparing for Bible study groups, small group studies, or other group situations.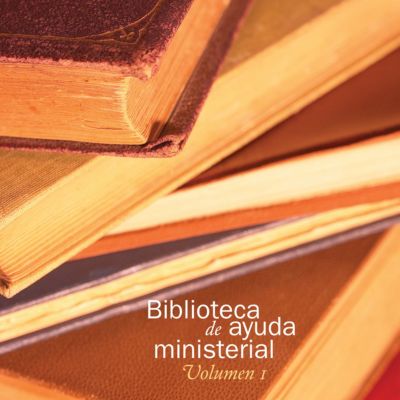 Biblioteca de Ayuda Ministerial CD-ROM - Vol. 1
Specifications
Age Max

99

Age Min

18

Height

0.41

Length

5.60

Width

4.90

Language

Spanish

Medium Format

CD-ROM

Product Group

Church Supplies

Type

Software

Publication Date

1999-12-01

Publisher

LifeWay Christian Resources

Item Number

001133217

ISBN10

0633035106

ISBN13

9780633035105

Contributors

Various (Author)