Behold the Lamb: A Ready to Sing Easter Bass Rehearsal CD
Smith/Mauldin (Composer)
Description
The bass rehearsal CD for Behold the Lamb: A Ready to Sing Easter. Behold the Lamb follows every step of Christ's Passion Week journey. Your choir and congregation will be deeply moved and stirred as they follow Jesus through the city gates of Jerusalem, into the Upper Room with the twelve disciples, into the Garden of Gethsemane, through trial after trial, along the Way of Suffering, to Mount Calvary and to a glorious empty tomb. Never before has the Resurrection story been so masterfully and wonderfully told. Easy. SATB. 30 Minutes.
Bulk Pricing
Buy 10–49 for $4.00 each
Buy 50–99 for $3.75 each
Buy 100–up for $3.50 each
Please call 1-800-368-7421 to order.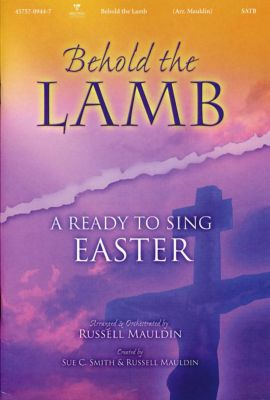 Behold the Lamb: A Ready to Sing Easter Bass Rehearsal CD
Specifications
Height

0.40

Length

5.60

Width

4.90

Product Group

Music for Worship

Publication Date

2004-12-01

Publisher

Provident Music Distribution

Item Number

001266390

ISBN10

0999923269

ISBN13

9780999923269

UPC

645757094577

Contributors

Smith/Mauldin (Composer)