Ancient of Days - Choral Book
Parks, Marty (Arranged by) , Parks, Marty (Author) , Parks, Marty (Compiled by)
Description
These 50 songs of praise and worship have been arranged into 20 medleys and each song may be used individually or in the arranged sequences. Much like its predecessor, "Mighty Is Our God", Ancient of Days features best-loved songs of praise and worship, fully orchestrated, from gifted songwriters like Matt Redman, Lenny LeBlanc, Chris Tomlin, Jamie Harvill, Michael W. Smith, Paul Baloche, and several songs from Lillenas Worship Resources.
Flexible 4-part hymnal style arrangements create voicing options for a variety of situations.
Each medley includes presentation suggestions.
Accompaniment trax, in addition to the orchestrations are available.
The Solo/Accompaniment edition features a solo version of each song and medley (in the same key as the songbook) and a fully written out keyboard accompaniment.
Ring-bound.
Bulk Pricing
Buy 10–49 for $7.99 each
Buy 50–99 for $7.49 each
Buy 100–up for $6.99 each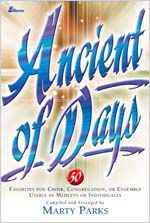 Ancient of Days - Choral Book