Action Hero: Jesus in the Book of Mark - Leader Guide
Danielson, Alan (Author)
Description
Action Hero: Jesus in the Book of Mark - Leader Guide takes group members on a journey through the Book of Mark as they learn how to become a missional community. It does this by teaching them how to be a "group of action" in the same way Jesus was a "man of action." Drawing from the words and action of Jesus in the Gospel of Mark "The Ultimate Action Hero" dares groups to become more than what they currently are. This Life Connections study keeps in mind that disciples are not made in a laboratory or a classroom—but on the go. (13 sessions)
Action Hero on the Scene (Mark 1:4-20)
First Small Group Hits the Road (Mark 1:21-45)
The Social Networking Gospel (Mark 2:1-17)
Drafting the Team (Mark 3:13-19)
Demon-Sized Problems (Mark 5:1-20)
There's Always Enough (Mark 6:7-11,30-44)
The Opposition Heats Up (Mark 7:1-13)
Faith, Prayer, Deliverance (Mark 9:14-29)
Sell It All (Mark 10:17-31)
Apocalypse When? (Mark 13:1-10,32-37)
Meeting Inside (Mark 14:1-9,12-16,22-25)
Mission of Sacrifice (Mark 14:43,53,57-68; 15:16-27,33-39)
The Last Command (Mark 16:1-20)
Features:
Includes at-a-glance transitions, illustrations, teaching outlines, Scripture commentary, and icebreakers
Includes both on-campus and off-campus discipleship experiences
Practical, hands-on experiences takes groups to the next level of missionality
Minimal prep time
Combines biblical teaching content with practical life-change lessons
Blends master-teacher format and effective small-group encounter
Authors:
Alan Danielson recently served as Central Team Leader for LifeGroups at LifeChurch.tv in Edmond, OK, where he led a ministry of over a thousand small groups on LifeChurch's thirteen campuses in six different states. He then founded 3Threat.net to help leaders master three essential leadership skills: vision-casting, creating strategy, and fostering relationships. Alan is a popular conference speaker and consults regularly with ministries and leaders on topics relating to small groups and leadership. He currently serves as senior pastor of New Life Bible Church in Norman, Oklahoma. He and his wife have three sons.

Darren Currin serves in a volunteer role as the LifeGroup Curriculum writer for LifeChurch.tv. He has served in this capacity, writing curriculum weekly, since 2007. In Darren's day job, he is a commercial real estate journalist and researcher. He resides in Yukon, Oklahoma with his wife and daughter.
Available Formats
Paperback, Leader/Facilitator Guide

$13.99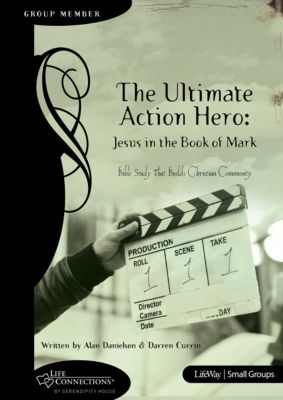 Action Hero: Jesus in the Book of Mark - Leader Guide
Specifications
Binding

Paperback

Height

0.50

Length

9.25

Width

6.50

Language

English

Medium Format

Paperback

Product Group

Bible Study

Type

Leader/Facilitator Guide

Publication Date

2011-05-02

Publisher

LifeWay Christian Resources

Sessions

13

Item Number

005371691

ISBN10

1415869812

ISBN13

9781415869819

Contributors

Danielson, Alan (Author)