A Night of Hope - Choral Book
Davis, Geron (Arranged by) , Knight, Bradley (Arranged by) , Davis (Composer) ...View All Contributors
Description
A Night of Hope, created and arranged by Dove Award winning songwriter/arranger Geron Davis, along with orchestrator Bradley Knight is breaking new ground with a unique and fresh approach to Christmas worship.
Geron Davis has masterfully weaved eclectic, stirring musical selections to create a high-energy Christmas worship project. Adding to the excitement, A Night of Hope features the gifts and talents of renowned songwriters Randy Phillips, Dan Dean, Dave Clark and Babbie Mason. Bradley Knight's instrumental charts provide an electrifying accompaniment to the energetic songs and soulful expressions of praise making this an incredible night of worship featuring choir, soloist, praise team, orchestra and congregation.
From the driving opening title song, "A Night of Hope," to the worshipful "Emmanuel to Me," to the soulful expressions of "My Soul Doth Magnify" to the comforting truth of "Don't Be Afraid," this collection will warm the hearts and bless the souls of choirs and congregations across the country.
Bulk Pricing
Buy 10–49 for $7.19 each
Buy 50–99 for $6.74 each
Buy 100–up for $6.29 each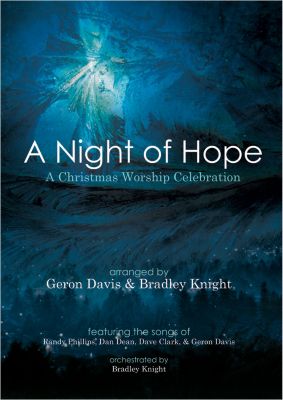 A Night of Hope - Choral Book