A Christmas Snow - Site License for 2 Months
Description
Films are a way to reach people, both believers and non-believers, with a life-changing message. In this film, Kathleen has carried around the unwanted memory of her father abandoning her and her mother on Christmas Eve. For the past 30 years, she has blamed her mother for that night and refuses to celebrate Christmas in any fashion. Although she has tried to forget her past, it has not forgotten her, and in the days leading up to Christmas she finds herself stuck in her own home with two strangers, because of an unforgiving blizzard. As the storm brings her face to face with the hurts of her past, she will have to choose one path: let go and grab hold of a life-changing forgiveness or continue to carry her pain and bitterness with her. A Christmas Snow will challenge you to step out on the adventure of hope that waits for the heart that dares to forgive, as the storm of the century brings the gift of a lifetime.
A Christmas Snow and license certificate allows a church with any size membership to show the movie an unlimited number of times for two months.
Kit Includes:
DVD assembled on demand
License included in kit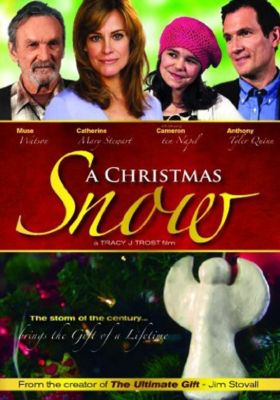 A Christmas Snow - Site License for 2 Months
Free Downloads
Right-click on the link. Select the "Save Target As", "Save Link As", or "Download Linked File As" option on the popup menu. Choose a location to save the file, then click the Save button.
Trailer (20.003 MB MP4)
Specifications
Height

0.33

Length

12.00

Width

9.20

Language

English

Medium Format

DVD

Product Group

Movies

Type

Film License

Publication Date

2011-12-01

Publisher

LifeWay Christian Resources

Item Number

005502192

UPC

634337293035

Territorial Restrictions

This product is only available in the following territories: Canada, United States