6 Secrets to a Lasting Love: Recapturing Your Dream Marriage
Rosberg, Barbara (Author) , Rosberg, Gary (Author)
Description
Get Ready to Discover the Love of Your Life All Over Again!
Remember the feeling you had on your wedding day? Your hearts brimmed with hope, promise, and the "dream" that your marriage would be perfect and your love would "last forever."
Then, like all couples, you entered the real world.
It's time to recapture your dream marriage, rekindle the romance with your spouse, and experience levels of love, commitment, and intimacy beyond your wildest dreams!
Marriage experts Dr. Gary and Barbara Rosberg share the 6 secrets that will help you and your spouse recreate the marriage you dreamed of on your wedding day and build a love that will last a lifetime!
Bulk Pricing
Buy 1–9 for $14.99 each
Buy 10–49 for $13.49 each
Buy 50–99 for $12.74 each
Buy 100–up for $11.99 each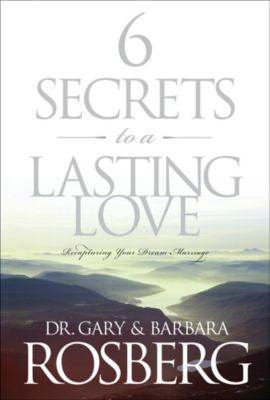 6 Secrets to a Lasting Love: Recapturing Your Dream Marriage
Specifications
Age Max

0

Age Min

0

Height

0.83

Length

8.18

Width

5.58

File Size

0

Language

English

Pages

312

Product Group

Books

Type

Non-Fiction

Publication Date

2006-12-01

Publisher

Tyndale House Publishers

Item Number

001320595

ISBN10

1414312105

ISBN13

9781414312101

Contributors

Rosberg, Barbara (Author) , Rosberg, Gary (Author)