Bring Priscilla Shirer To Your Church or Community — April 23, 2016
Find a Host Location Near You
50,000+ Viewers Worldwide, Easy to Use Simulcast Event
Let Priscilla Shirer teach the Word of God at YOUR church this Spring, along with thousands of other women around the globe! Includes three teaching sessions and worship, along with access to LifeWay's technical support team during the live event. Simulcast hosts have access to the event for up to 30 days AFTER the live event!
Want to talk to someone about hosting?
If you are interested in hosting a simulcast but would like to talk to a Simulcast Specialist about what it could look like at your location, please fill out this quick form and someone will contact you. SIMULCAST INQUIRY FORM
Registration Details
SMALL CHURCH REGISTRATION
Church Membership 249 or Less
$750
LARGE CHURCH REGISTRATION
Church Membership Over 250
$1000
INDIVIDUAL REGISTRATION
Small groups, get 1 for each participant
$20
---
Why Simulcast?
Community Outreach - Impact the women in your community.
Customizeable and affordable - Make it as large or as intimate as you want.
Convenient - No travel required.
A great kick off to a women's Bible study in your church.
View women's stories from previous simulcasts.
How To Participate
What You Need
A computer and internet connection.
1 MB of continuous download capability for standard definition (DSL connection).
3 MB of continuous download capability for High Definition (cable modem or broadband).
Questions About Hosting? Contact Customer Service at DigitalPassSupport@lifeway.com or by calling 866-713-3512.
Available in Closed Captioning
2016 Priscilla Shirer Simulcast Schedule (based on Eastern Time)

8:00 am Media Loop
8:50 am Local Announcements
9:00 am Event Begins
9:30 am Prayer Experience
10:00 am Session One
11:15 am Ministry Opportunity
11:30 am Lunch
12:45 pm Worship
1:15 pm Prayer Experience
1:45 pm Session Two
2:45 pm Break
3:15 pm Worship
3:30 pm Session Three
4:30 pm Closing Worship
4:35 pm Event Concludes
Check out these 4 big blessings that come from hosting a simulcast told by previous host churches:
1. Build Relationships With Other Churches In Your Area
"We did the event with another church in town, and that was amazing to see the 'body' of Christ come together. The prayer time in the afternoon was really good. We saw women stand up to testify of healing in each of the areas that Priscilla prayed for, and then the ladies ministered to each other. Since we had a number of different churches in attendance and many didn't know each other, it was fun to watch them interact with each other instead of staying in the group that they already knew."
— Mary Kay Billington // First Baptist Brenham, Brenham, TX (2014 Priscilla Shirer Live Simulcast Host)
2. Introduce Women To Jesus
"The Holy Spirit was so powerfully upon our church on this day. I believe that the hours and hours of prayer and the hearts that have been just humbled before God brought Him here. We did this event free for anyone who wanted to attend and saw women from every conceivable background walk through our doors. The potential for us to bring in women who didn't have any relationship with Jesus. We even prayed for women to come in off the street—and He brought one in! She was hungry and we were able to feed her and her family. We watched Him break hearts and begin to mend and heal them again with His love filling in all the cracks from the original break. We are honored that He chose us to bring this event to our community! His Name and renown are the desire of our hearts!"
— Rich Cochran, First Baptist Bolivar, Bolivar, MO (2013 Living Proof Live Simulcast)
3. Strengthen Relationships Of Women In Your Church
"It has been over two weeks since the simulcast, and positive reports are still being circulated about the event. Many women in attendance re-dedicated their lives. One mother told how her two daughters resolved an issue that had been keeping them apart as a result of the simulcast. One of the most gratifying results of hosting the event was the stronger bond that was formed between the members of our women's group. All of us did everything we could think of to make the event one of spiritual inspiration and edification. The result for each of us was a feeling of increased closeness to each other and to the Lord."
—Joyce Romkema, Emmanuel Reformed Church, Springfield, SD  (2014 Living Proof Live Simulcast)
4. Offer A Life-changing Event Without Having To Leave Town
"It was exciting to see women ranging in age from 13-93 at the simulcast. It was also exciting to see women from 11 different churches and 11 different towns join together in worship and the Word! This is our 2nd year in a row to host the simulcast. Several women commented on how wonderful it was to be able to attend something like this with relatively low cost, little-to-no travel, and they were able to stay close to their families."
—Karla Downey, Bethel E-Free Church, North Platte, NE  (2014 Living Proof Live Simulcast)
---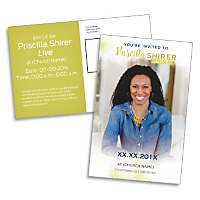 Invite Women in Your Community to Attend The Priscilla Shirer Simulcast
LifeWay Prospect Services does all the work for you. Prospect Services will provide the mailing list of women in your community, customized postcards with women's names and addresses and mail them for you. Only $0.64 each, including postage. View Sample
Visit Lifeway Prospect Services or call (800)-464-2799.
Products
Event
Price
Purchase

April 23, 2016

Bring The Word Closer to Home by offering the Priscilla Shirer Live Bible teaching event to your church and community!

Guests: Priscilla Shirer, Anthony Evans

$1,000.00

April 23, 2016

Bring The Word Closer to Home by offering the Priscilla Shirer Live Bible teaching event to your church and community!

Guests: Priscilla Shirer, Anthony Evans

$20.00

April 23, 2016

Bring The Word Closer to Home by offering the Priscilla Shirer Live Bible teaching event to your church and community!

Guests: Priscilla Shirer, Anthony Evans

$750.00