The Fatigue Factor
This article is courtesy of ParentLife Magazine.
My husband has a demanding job, while I work from home. Like many couples, we struggle to balance our marriage, children, church, work, and extended family.
God often uses my children to teach me life lessons. One of these moments slowly permeated our everyday life as I realized how similar I am to a child fighting sleep. I remember days when I had to place my hand over my son's eyes so he could not look around while I was trying to get him down for a nap. He fought so hard, but I knew he needed the rest. How many times have I fought God saying, "But I have to get this done." God, in His wisdom, designed rest for your good, not to punish or deny you.
A fatigue-fighting strategy
With those thoughts in mind, let me share the strategy that God gave our family to manage the fatigue of constant pressures, demands, and activities.
Prioritize
Examine your daily, weekly, and monthly responsibilities. What really has to get done and what can wait? Obviously laundry is a must, but is dusting? Can you take the car to the shop for an oil change instead of doing it yourself? Rather than trying to do it all, prioritize and do your best. Your best is good enough!
Downsize
Downsize your commitments and learn to say no. Recently we limited our children to one sport per school year. Although they grumbled, they agreed that it was nice to come home from school and just relax. Remember Mary and Martha (Luke 10:38-42). It is not what you do but who you are that matters to God. Focus on being who God wants you to be.
Organize
Organization goes a long way in relieving unnecessary work and frustration. Spend one evening a month coordinating calendars with your spouse. Review the activities and delegate fairly. For example, prepare meal plans and shop biweekly. Likewise, save a trip to the store and establish a stash of school supplies for those last-minute school projects.
Energize
Remember how your child behaves when she is tired and crabby? Do adults really behave differently? Take a nap Sunday afternoon, play a board game with your kids, or watch a movie together. Let go of the guilt that accompanies the pressures and let God energize you to do the jobs He has called you to do.
Related Products
HOMELIFE - November 2016
$4.00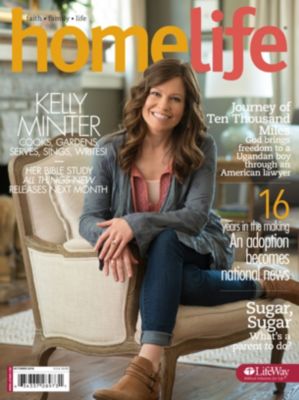 HOMELIFE - October 2016
$4.00