Handbells of Praise: An Interview with Christine Anderson
Everything about the situation looked wrong: The table that should have reached about waist-high rose nearly to Christine's chest; table legs that should have supported a few octaves-worth of handbells seemed unlikely to support a single bass bell; and then there was the location­this table, perched unsteadily on the sloping ground of a barrio in Ecuador, stood against a backdrop that in no way resembled the worship centers and concert halls where handbells generally echo.
But still she played. "That was unusually tough," said Christine Anderson, award-winning handbell soloist and handbell music arranger. "It wasn't my best performance, but I made it through," Christine said, grinning good-naturedly at the memory of that South American mission trip.
That's right, that particular performance was part of a mission trip, not a professional concert or spontaneous musical moment during a vacation. Christine intentionally packed her handbells, crossed the equator, and used them as instruments of worship on the mission field­and Ecuador isn't the only place she's ventured with those bells­add Russian street corners and airport lobbies to that list, just to name a few.
The outreach of this Frazier Park, Calif., resident also includes serving as editor for Handbells, LifeWay's quarterly publication of music for handbell choirs.
In truth, Christine pointed out, ideal conditions and flawless performances aren't the most important elements of handbell choir concerts on the mission field. "Visually, I think it's exciting to see all these hands working together," Christine says. "No matter where we play, we gather a crowd because it's just interesting."
The "interesting" factor, the intrigue of an instrument unknown — or at least unexplored — by so many, is what prompts Christine to passionately campaign for the use of handbells in a wider range of environments and with a larger repertoire of music beyond the confines of "hallowed" halls and Christmas carols.
After all, successfully performing handbell concerts on a hill in Ecuador and a street corner in Russia lends credence to her assertion that the bells are as adaptable as they are fascinating.
A Brief History of Handbells
While bells themselves are much older, tuned handbells have been in use and production since the late 17th century. Handbells were originally devised as practice instruments for the men who rang the enormous bells housed in England's church belfries.
Handbells gained visibility in the United States during the 1840s, thanks partly to a group known as The Swiss Bell Ringers (a name chosen for publicity, not cultural accuracy). The group toured the United States as a novelty under the sponsorship of P.T. Barnum, best remembered for founding what is today known as Ringling Bros. and Barnum & Bailey Circus.
Then, in 1923, Boston's Margaret Shurcliff founded the Beacon Hill Ringers, a small group of amateur handbell enthusiasts. Within a few years, several other local handbell groups had developed, which led to Shurcliff founding in 1937 an organization known as the New England Guild of Handbell Ringers.
The popularity and visibility of handbells continued to grow, eventually attracting national media attention. The December 15, 1947, issue of LIFE magazine features an article that begins, "Among the most contented and least-known music lovers in America are tiny amateur groups which regularly practice the fantastically complicated old English art of hand-bell [sic] ringing."
The article goes on to reveal that Shurcliff and her "Beacon Hill bell-ringing friends" planned to "serenade the neighbors" on Christmas Eve, "as usual," with performances during which "Boston hears some highly specialized tinkling."
Beginnings of a Ministry
About three decades after that LIFE article published, Christine discovered handbells as a member of an up-start handbell choir at her Ft. Lauderdale, Fla., church. She was 23.
At that time, she said, little published music existed and most bell sets were comprised of only three octaves; many now feature seven octaves. Still, she saw potential even then, and regardless of the relative obscurity of the instrument, she was intrigued enough to write her master's thesis about handbells.
It wasn't until she witnessed a solo handbell performance seven years later that Christine devoted herself fully to the bells. She said she remembers thinking, I wonder if I could do that? and at 30 years old, she decided to devote her life to trying.
Christine recalled that it was as if she suddenly awakened to the beauty, the versatility and, perhaps most importantly, the possibilities of ringing handbells. "The sky is the limit," Christine said, reflecting on the development of handbell playing and music in the last 20 years. "I don't know where we can go."
When she first began her solo handbell career, Christine said the dearth of solo handbell music available was made even more frustrating by the lack of sophistication showcased in the music that she could locate. Perhaps not surprisingly, the techniques used to play the bells mirrored the uncomplicated nature of the music.
"No one played with two bells in one hand," she said. But that was several years ago, and much has changed. Today Christine's Web site, www.VoicesinBronze.com, features a short technique video titled "Six in hand" during which she demonstrates how to hold and play three bells in each hand.
"The more available the music was, the more techniques developed and the more people became addicted to it," she said. Christine deserves some credit for the increased complexity and sophistication of solo handbell music. Rather than waiting for someone else to develop music to feed her passion, early in her career Christine decided to compose and choreograph her own arrangements with the help of a few piano composers. In 1987, her first book of arrangements, "Songs for the Solo Ringer," was published. Today, Christine has more than 85 published arrangements to her credit in addition to several CDs and videos.
Using handbells as ministry tools, Christine has performed in concert halls around the world, at the White House, and in every state, but even with the successful career she has created through playing handbells, every concert remains most importantly a ministry activity.
"They don't know they're coming to a worship service," Christine said of her audience members at any given concert, "but whenever I speak [during concerts], I always present the gospel in some way. I don't want anyone to leave not knowing where I stand on my faith."
Handbells have allowed Christine to successfully worship in some of the world's most secular concert venues, so she understands the bells' adaptability and champions their expanded use in more typical worship environments. Her dream is to dispel for every church any fear of starting a handbell ministry and, in churches already working with handbells, to break down the barriers that restrict the instruments to the "special music" part of a worship service or, worse yet, to once-a-year Christmas concerts.
"In a handbell choir, you have people who maybe would never make music another way," Christine said. "But you put them in a [handbell] choir and they can make beautiful music. Every member becomes a worship leader."
The first step for a church wanting to organize a handbell choir is to choose someone who can lead it. "The person should be musical, but they don't necessarily have to know bells," she insisted. "They can learn everything they need to know." Christine recommended Don Allured's "Mastering Musicianship in Handbells," available at LifeWay Christian Stores, as an excellent resource for new handbell choir directors.
Once a director has been named and willing handbell choir members recruited, "teach a song immediately." Christine said that teaching a song right away will allow new ringers a "real world" opportunity to learn how to ring; when to damp, or stifle, the ringing bell; and how to read the music. As the ringers improve, the time will come to begin discussing with the church's worship leader how to integrate the bells into the worship service. Christine admitted that some worship leaders are hesitant when it comes to handbells.
"Help him understand that handbells can be incorporated into any music," Christine said, pointing out that she has heard everything from Coldplay songs to Rimsky-Korsakov's "Flight of the Bumblebee" skillfully performed with bells. "Encourage [the worship leader] to attend a handbell concert." To allay the performance anxiety of new handbell musicians, Christine said to consider performing first in non-threatening locations, such as in the church lobby before or after a service, rather than front-and-center during a Sunday morning worship service. Or take the bells outside of the church on a mission trip or to the local prison.
"Music is international," she said. "There are no words, so it can go to any country. Our bodies, our faces should communicate what we're playing to the audience. All of us should be communicating the message." Christine ultimately wants to see bells fit into the flow of a worship service, and she said she hopes to hear of more and more worship leaders asking, "How can we make bells part of the praise team?"
When worship leaders do ask that allimportant question, Christine is ready with a suggestion to start the integration: Invite ringers to play directly out of the hymnal as the congregation sings and the praise team provides accompaniment. "Try playing the note name that fits the harmony for the measure being sung," she suggested for new bell-ringing praise team members nervous of standing apart in the musical mix. "And if it doesn't sound good, you damp it. If you're playing while everyone is singing, the mistakes won't be heard."
The People Behind the Music
For Christine, fostering a handbell ministry in the church is about more than offering an interesting and musically stunning worship experience for the congregation-though that is important. "It's an outlet, a community service and inreach," she said. "It's an opportunity for your people to serve the Lord in a way they would never be able to otherwise. You're making music as a community. We all [in a handbell choir] have a job to do and if you aren't there, the job doesn't get done."
As one of the top solo handbell ringers in the world, Christine has secured countless future opportunities to pursue her ministry and passion. Her hope and prayer is that other handbell ringers will be granted that same chance. "Give handbell ringers the opportunity to keep playing," she asked of worship leaders. "It's such an avenue of worship for so many people. Give them the chance to use their imaginations."
Christine's favorite piece to play is the hymn "Crown Him with Many Crowns," but she said she appreciates songs of all kinds performed well on handbells. "Convince the music director to want the handbell choir," Christine said. "Handbells can play just about anything, and we can change with the times."
Related Products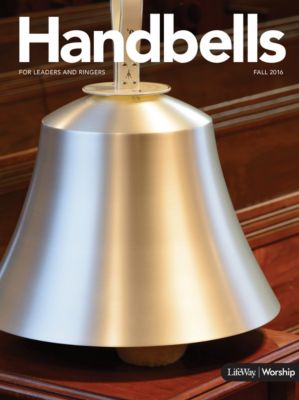 Handbells - Fall 2016
$8.75