The secrets of a successful dad
This article is courtesy of HomeLife magazine.
Recently I read of a young man who received an unusual gift. The boy peeled back layers of wrapping paper from a tiny box. Inside he found a small, handwritten note from his father. "Son," it read, "this year I will give you 365 hours — an hour every day after dinner."
"This simple present became the greatest gift I ever had in my life," explained the boy as an adult. "My dad not only kept his promise, but every year he renewed it. I am the result of his time."
One hour after dinner is all it took to change a boy's life forever. One hour of leading, loving, and learning. It is such a simple idea, an obvious one.
Directing our children by making ourselves available provides a solid foundation and a cherished place to belong. Children who know they belong to a family and have a father who spends time with them have a decreased need to adopt the values and behaviors of others. As a result of that leadership, children are more resistant to peer pressure in the adolescent years. That resistance reduces the risk of promiscuity, substance abuse, and suicide.
Time for our family is like oxygen to our bodies — there's a minimum necessary for survival. And it takes quantity as well as quality to develop warm and caring relationships.
One Man's Decision
A man worked for a television studio, but, unlike so many in the TV industry who seldom watch television themselves, this man was addicted to it. He would come home from work, turn on the tube, and watch it all evening. He spent little or no time with his children or his wife. In fact, his kids hardly knew they had a dad. All they knew was that someone living there watched TV all the time.
Needless to say, his marriage was hurting and deeply immersed in isolation. For some reason, however, he and his wife decided to attend a marriage enrichment conference, and that weekend literally changed his life. He realized his priorities were totally wrong and that he was setting a bad example for his children.
When the man got home from the conference, the first thing he did was take the television set from thefamily room and store it in the garage. Then he hung a family portrait on the wall where the television set used to be.
Next he called his wife and two children into the family room for a family meeting. As he shared with them his new set of priorities and asked for their forgiveness, his12-year-old son interrupted him and asked, "Dad, does this mean we're going to be a family now?"
This husband and father had made a giant step, from spending night after night doing nothing of value, to deciding to be a dad who cared about his family and did something tangible about it.
What Dads Can Do
If it seems your family is not connecting, let me suggest that you do the following:
1. Pray about your priorities.
Ask God to help you order your life according to His priorities. Corporations in this country and workaholic dads need to be reminded about what their priorities should be. Should Christian dads and employees abandon the search for excellence in the workplace? Not at all. But we do need to get our priorities in order.
2. Think through your opportunities.
Often promotions (or positioning yourself for them) come with a corresponding increase in workload and hours. Is it worth it?
3. Consider changing jobs.
No job is worth sacrificing your spouse or children. No career is more important than your relationship with those you love.
4. Stop gift wrapping the garbage
(or anything else that drives you to perfection and sacrifices valuable time with your family.)
As I was mowing my yard the other day, I thought, "Do I want to be remembered for having a beautiful lawn or having a wonderful family?"
5. Monitor your family's level of involvement in organized activities.
Granted sports, music, and educational programs are needed for our children to lead balanced lives. But enough is enough.
6. Commit to regular family times together.
Schedule regular family nights or family outings. Guard those times as you would any other appointment.
7. Slow down and live.
For many of us, the pace of our lives is self-imposed. We do have a choice about what we do and the schedules we keep. A friend once told me, "My dad was an expert at hurrying, and he inflicted it on our family. We would hurry to go on vacation, hurry to enjoy it, and hurry to drive home, so we could hurry on to something else!"
A lack of time might be the most pervasive enemy a healthy family has. I don't know many families who aren't overcommitted. To change that behavior in my family is my responsibility as the father.
Spending time together as a family is doing God's will. Time spent with family is each family member's birthright — and most are starving for it.
Related Products
HOMELIFE - November 2016
$4.00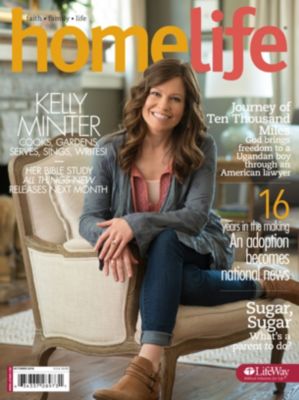 HOMELIFE - October 2016
$4.00