Five Steps to a Better Marriage
This article courtesy of HomeLife magazine.
God instituted marriage in the garden of Eden. He determined that "it is not good for the man to be alone" (Genesis 2:18). After considering all the creatures He had created, God declared that "for Adam no suitable helper was found" (v. 20). He made woman to provide the relationship that was crucial for man.
The verse often recited in weddings clearly describes what a marriage is to be: "For this reason a man will leave his father and mother and be united to his wife, and they will become one flesh (v. 24). The one-flesh union between husband and wife should occur emotionally, spiritually, and physically. A husband and wife must strive for this oneness. As one of our church members recently said, "God ties a hard knot."
Another way to view this union is as a partnership. The following five steps will help a couple achieve this partnership.
1. Embrace your God-given roles
The husband's role is to be the head of the household. Southern Baptists are sometimes criticized for this view; however, a husband's authority is not to be cruel or unjust. Paul compared a husband's love for his wife to the love Christ has for the church. He also said a husband should love his wife as he loves his own body. (See Ephesians 5:22-33.) Therefore, the husband has spiritual authority in the home but is still in partnership with his wife.
The wife's role is beautifully described in Proverbs 31:10-31. She is to bring good to her husband by being trustworthy and virtuous. She should watch over the affairs of her household, speak with wisdom, and, most importantly, fear the Lord. Wise husbands realize that without the wisdom, love, faith, and support of their wives, they would be incomplete.
When each spouse fulfills his or her God-ordained role, a marriage partnership is the result. For two people to be partners, they must have common interests, complete trust in each other, and time together. Marriage partners should be inseparable in every sense of the word. Activities that would cause division should be avoided at all costs.
2. Spend plenty of quality time together
Quality and quantity of time together must take priority in a marriage. Is it any wonder that so many marriages end in divorce when husbands and wives never spend time together?
Many times spouses are forced to work opposite shifts and long hours. Although rearranging work schedules is not always easy, it must be considered, because no amount of money is worth a broken marriage.
What is surprising to us is that husbands and wives often don't spend leisure time together. The husband pursues hobbies by himself or with friends. The wife is often left to do the lion's share of the work at home. In other cases, the wife has a hobby that does not include her husband. It is ironic that men and women marry so they can be together but often find themselves torn apart by the demands of daily living and extracurricular activities.
Even before we were married, we recognized that our time together was critical to the health of our relationship. We also realized that we had to be apart much of the time because of the demands of our jobs. We made a commitment to be together as much as possible. If we needed to give up hobbies we could not enjoy together, that's what we would do. A couple in our church made the following commitment: "What we choose to do, we choose to do together." We've made the same commitment in our marriage.
3. Minister together
We work diligently to share the demands of our ministries as pastor and teacher. We each are committed to supporting the other's ministry through active participation in the church and in the school system. We're blessed to have the kind of friendship and ministries that lend themselves to shared responsibilities.
Couples can minister together through local church activities, on mission trips, in their neighborhoods, through community- service activities, and in many other ways. As you take advantage of opportunities to minister to others in the name of Christ, you'll reap the benefits in your marriage.
4. Have fun together
We choose to spend our "fun time" together. We enjoy many of the same activities, such as playing games, working puzzles, reading, traveling, watching movies, eating out, and walking. In a few areas, we have each compromised in order to do things together. This has meant learning new things and giving up activities we can't enjoy together. Occasionally we do things with our individual friends rather than as a couple, but we don't make that a habit. We believe any activity that constantly pulls us apart is not healthy for our marriage.
5. Offer each other unconditional love through God's grace
Our relationship is possible through God's grace. We are capable of love for each other only because of the love Jesus Christ has for us. We strive to love each other unconditionally as He loves us.
We do not claim to have the perfect marriage, but we are trying to follow God's plan for us. Even though we've only been married a short time, we've found these five steps helpful. We pray they will be helpful for you as well. When a marriage is established as a partnership based on the love of Jesus Christ, God will bless and strengthen your relationship.
Related Products
HOMELIFE - November 2016
$4.00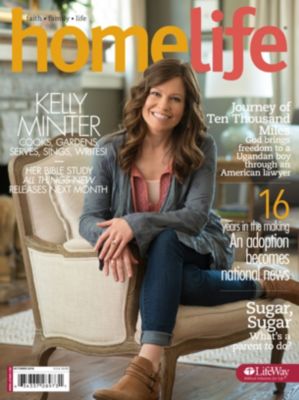 HOMELIFE - October 2016
$4.00