Discovering a Different Rhythm of Life
This article is courtesy of HomeLife magazine.
Jane sat perfectly still in her chair, intentionally breathing slowly. Something's not right, she thought. The heart rate monitor she'd found in her daughter's gym bag showed that Jane's heartbeat was erratic and quivering — 100 to 170 and back again in a matter of seconds. An hour later, she was hooked up to bigger monitors at the hospital.
"Atrial Fibrillation is a common form of arrhythmia," the cardiac specialist explained. "It's like a storm of electrical energy that spins in waves across the upper chambers of your heart. Basically, your heart is working so fast, it begins to misfire. With this medication, we should get this slowed down and have you feeling like new."
Most of us haven't experienced a frighteningly erratic heartbeat like Jane's, but our lives can be just as frenetic, our days beating out of control. We're running in circles, trying to keep up with the pace our culture has dictated - at home, at work, at church, and everywhere in between.
Our constant running has produced an arrhythmia of complex, unfulfilling lives misfiring in the fast lane. The results are physical and mental fatigue, spiritual disconnect, and crowded loneliness — all of which lead to out-of-sync, out-of-touch, insecure families.
This is not the life we were meant to live. God designed us for wholeness and peace, a life where we enjoy community and intimacy with Him and others.
Less is more
So how do we carve out space in our lives for God and others? We can start by gearing down.
For Maria Murdock, a 42-year-old mother of four, that means seeking less ... and more. Fewer possessions and more time.
"I've never bought into the idea that in order to raise healthy kids and have a happy family, you have to buy more or bigger things and do more," she says. "I'm a big believer in consistently getting rid of clutter — excess in things and time-wasters. So we intentionally minimize and recycle everything in our house. If it's here, we use it. If we don't, it doesn't stay."
The Murdock home has not expanded with the arrival of more kids; it's shifted to accommodate them. "The bedrooms are small; the closets are small. But we spend most of our time in the kitchen and den anyway. We enjoy being together."
Noticeably absent from this home is the television. For 11 years the Murdock family has been unplugged, bringing the black box out only for significant historical events or school-assigned viewing. "It's just a big, noisy distraction — from each other, from imagination, from the kind of life we're trying to build. It does more harm than good, and it's not essential."
Not everyone can take such a dramatic step, but slowing the pace of our lives doesn't always begin with radical change. It can begin with small, intentional steps.
The life you were meant to live
So you know you can't continue on the high-speed treadmill you've been running on for years. Not if you want to experience God's purpose and peace. Christine Sine, physician and author of Sacred Rhythms: Finding a Peaceful Pace in a Hectic World, shares three steps toward a more purposeful pace, what she calls "shalom health."
Identify kingdom values. We need to understand what Jesus' life example means to the way we live. "Jesus had a distinctive rhythm of life," Sine says. "He had a spiritual life, and nothing ever got in the way of that. He spent His life in community. ... His life was a celebration.
The values He lived by are more than a road map to a life of spiritual devotion and practice, Sine explains. These values should permeate every aspect of our lives.
Develop life practices that restore and transform. "Anything we do on a regular basis that constantly builds up our faith is a ritual of restoration," Sine explains. These rituals include routines in our schedules, such as committing the day to God each morning, praying at meal times, and having regular times of prayer and Scripture reading.
Intentionally live out faith values in consistent, tangible ways. This is how we pull away from the frenetic pace of our material-obsessive culture. Whether praying short prayers in conjunction with ordinary tasks, sharing a meal with neighbors, or cutting down the hours we work, we can change the rhythm of our lives if we practice. "We have to be thinking constantly about the bigger picture of our lives," Sine says, "looking at what makes living purposefully difficult and eliminating those roadblocks."
As we deepen our relationship with God through prayer, Bible study, and worship, we discover our calling as representatives of His kingdom. And in that discovery, Sine believes, we can eliminate the wheat from the chaff, the essential from the excess. In short, we can rediscover the life we were intended to live.
To push back the rhythm and noise of this chaotic world to hear the rhythm God perfected is not an accident. It's an act of will, possible only through His mercy and grace.
Related Products
HOMELIFE - November 2016
$4.00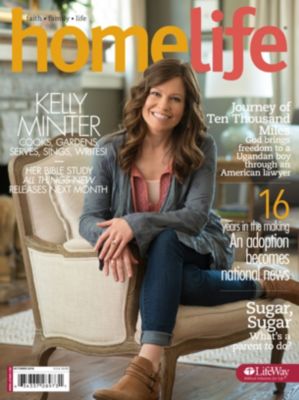 HOMELIFE - October 2016
$4.00