Design Remix: Use What You Have and Save Money
This article is courtesy of
HomeLife Magazine
.
Have you been looking around your home thinking everything has become so boring, but you don't have the cash to do a major overhaul? Cheer up! With a little design remixing and a bit of sweat equity, you can make a fresh statement without breaking the bank. By using what you have - tweaking it, revamping it, or moving it around - it's easy to give a piece of furniture or a whole room a new look that makes a huge impact.
Paint away
Instead of spending several hundred dollars to wallpaper a room, pick a focal wall and grab a gallon of paint. (Don't repaint the whole room. Focusing on one wall can make a dramatic change; think of it as a piece of art.)
Pick a paint color that's a shade or two darker than what is already on the wall for a subtle change, or pick a bold color that will pop. Next, find a stencil you like of a simple pattern, such as a fleur-de-lis or paisley. The stencil should be large - think 12 inches by 12 inches. Use the stencil in a repeating pattern on your wall to imitate wallpaper. The best part is, when you get tired of it, you can paint right over it instead of having to go through the hassle of steaming and tearing down stubborn wallpaper.
Fabric face-lift
Tired of those ugly closet doors? Soften up your bedroom by taking down the doors and replacing them with curtains. For a dramatic effect, hang them just below the ceiling, letting them fall all the way to the floor. If you're feeling adventurous and know how to sew, use a flat sheet and add a simple three- to five-inch border around the outside. After adding the border, fold over the top to make a pocket for the curtain rod.
Dining room redo
Let's say you inherited a really nice dining room set that's not quite your style. Maybe it's the wrong wood, or it's a little worn from use over the years. Paint the table and chairs to match your décor — black works really well for a clean, sophisticated look, and white works well for a country antique look, but any color that matches your décor will do.
After painting, replace the fabric on the chair cushions. Check out your local fabric store's remnants for great finds at exceptional prices. It won't take much fabric, just a couple of yards or so, but be sure to ask someone at the store to help you figure out exactly how much you'll need.
The recovering process is as simple as unscrewing the cushion from the chair and stapling new fabric on to the seat. Remember to always staple into the back on one side, pull the fabric tight across the front, and staple into the back of the other side. Then staple all the way around the back of the cushion, making sure to pull the fabric taut as you go.
Reattach the cushions to chairs, and admire your beautiful new dining room set. (To keep food from staining your beautiful handiwork, spray fabric with Scotchgard and let dry. It will be much easier to clean up after any spills or mishaps.)
After you remix a few things in your home, the last thing you'll say when you look around is "boring." In fact, your neighbors may ask you to remix the boring out of their homes, too.
Related Products
HOMELIFE - November 2016
$4.00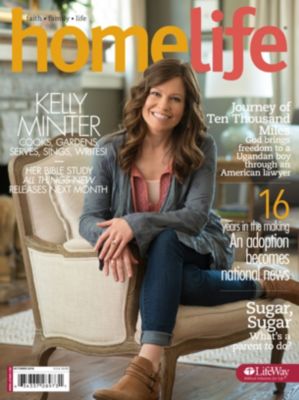 HOMELIFE - October 2016
$4.00