A life less ordinary
This article is courtesy of HomeLife magazine.
Listen. This is important.
It's time you started Thinking Big. It's time you find out what really makes you Come Alive. Let this be the day you Start a New You. There is No Practice Life, my friend. This Is It. So Be All That You Can Be. Break Free. Be More.
Over the last few years, bold admonitions like these have increasingly found their way into our national dialogue - through airwaves and on bookshelves, in magazine racks and from pulpits. Everywhere we turn, we're increasingly challenged to courageously push ourselves beyond the "good enough" to something more.
Meant to live for so much more
This all sounds great and inspiring, of course. And on some level, we know the admonitions are pointing us toward something that's deeply true.
That's because it's a message that started not with Madison Avenue but with God. Scripture reminds us that we were created for much more than we often settle for. "For we are His creation," the Apostle Paul proclaimed, "created in Christ Jesus for good works, which God prepared ahead of time so that we should walk in them" (Ephesians 2:10).
In his book New Way to Be Human, Charlie Peacock reminds us that "the narrative of God acting in human history is compelling, not boring." Then he asks this pointed question: "[So] how is it that student-followers of Jesus end up with lives that don't demonstrate that following Jesus is a better way to live? How is it that we tell this kind of unattractive story?"
God has designed each of us to fulfill a unique purpose in this world. Deep inside, we know this. Wouldn't it be wonderful to explore that potential more fully, name it for what it is, and unleash it?
But there's a problem. The idea of becoming everything God calls us to be can feel far too overwhelming to be practical. Between the family, the mortgage, the career, and the commitments at church, we're already doing our dead-level best just to keep up. Work harder? How can we do any more in a day? Our first thought about the challenge to live beyond just good enough is often that it's going to take more time, more energy, more of something we just don't have.
But what if living the kind of life God intended was more about letting go than taking on more?
In search of abundant life
"So many people are just carrying so much," says relationship coach Cynthia Loy Darst.
"And there's not enough space to stop and say, 'Hey, wait a minute - there's something important I'm missing here.'"
"Most people have to get fed up with the way things are," says Vinita Hampton Wright, author of Simple Acts of Moving Forward. "You have to reach a point where you're honest with yourself enough to say, 'You know, this is not OK. I need something better.'"
But there's an even deeper motivation - one that stems directly from our faith in Christ, Wright adds. "If I didn't believe in Jesus, and if I didn't believe Him when He said, 'The kingdom of God is already here,' then I would probably be content with a good-enough life," she says. "But I'm convinced I was designed for an abundant life. I don't mean that in a prosperity-gospel sense. We are not spared grief and pain, but they merely become part of this life-changing journey.
"I hope that I will always be hungry for more," she adds, "that I will have the courage to entertain desires and dreams. I want to become what I was meant to become, and I would rather try and fail from time to time than sit back and just be a person to whom things happen."
What about you?
Go deeper
God has imprinted in you the person He created you to be. Part of that are the deep, God-honoring desires you know exist within you.
"This longing is the most powerful part of any human personality," wrote John Eldredge and the late Brent Curtis in their book, The Sacred Romance. "It fuels our search for meaning, for wholeness, for a sense of being truly alive. ... And the voice that calls to us in this place is none other than the voice of God."
But if that desire is in fact God's voice speaking, we don't always recognize it as such. We may experience that desire more as the distant, dull ache of a hunger we can't seem to satisfy. As it grows over time, it may even begin to feel somewhat "dangerous" because of its reckless disregard for the status quo.
But what if that "dangerous" desire is actually God's urging you to step out and reach for a holy calling that's bigger and more true than what you have lived so far? If you said yes to that desire, how would your life be different? How would you be different?
Finding God's design for your life
Even after you say yes, there's still the confusing matter of determining the best way to pursue the journey of your beyond-good-enough life. After all, God made each of us different. And the path He designed for one person may not be the same as the path He lays out for another.
So, where can you begin to seek God's design for your life?
1. Start with the Word of God
The Bible provides the foundational guidelines for all of our journeys. Rick Warren, author of The Purpose Driven Life, observes, "The easiest way to discover the purpose of an invention is to ask the creator of it. The same is true for discovering your life's purpose: Ask God."
In Mark 1:15, Jesus gave new purpose to all of our lives when He announced, "The time is fulfilled, and the kingdom of God has come near. Repent and believe in the good news!"
2. Take a look at what's already working
Recognize areas where you're already living at your best, say the Darsts. Those are great places to anchor the "bigger vision" of the life Christ is calling you to live because they're easy to identify and build on. Let's say you love working with the children at your church, and you notice that you come alive and are genuinely at your best when you're with them. That's an area that's already working well. How might you expand or deepen that experience? How might you step into it more fully?
3. Look at the areas that aren't working
Be honest about how those unsatisfying aspects of your life are impacting you.
"Mediocre starts happening," Cynthia Loy Darst says, "when you stop giving yourself permission to be exactly where you are." Only from that place of compassionate acceptance can you really get honest about what's not working in your life and start imagining what's possible.
4. Go deep into your heart
What do you really want your life to look like? What do you want in your marriage and family? What's the gift God has called you to bring to the world? If you were actively pursuing in every way the life He's created you to live, what would you be doing? How would the people around you describe your impact on their lives? When you're at your best, who are you?
Invite your spouse into this process too. Dream together about the possibilities - openly and without judgment. Talk about what God's high calling looks like for each of you and the role you want your relationship to play in that vision.
5. Take action

Identify one or more areas you genuinely want to explore in pursuit of the life God is calling you to live. Then make a sincere decision to take action.
"I believe that God is waiting for us to wake up and get hungry for life that is amazing," Wright says. "I believe God wants us to want an abundant, growing life for ourselves and also for a world that is cynical and mediocre and dull and without hope.
"Sometimes [this] forms in us during times of struggle or what seems like no progress at all. But we have to keep looking and listening for God's signals so that we can grow through everything that happens."
Footnotes
Story Highlights
Related Products
Courageous DVD
$12.99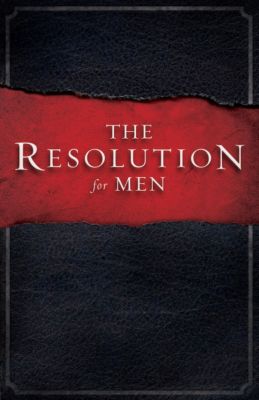 The Resolution for Men
$14.99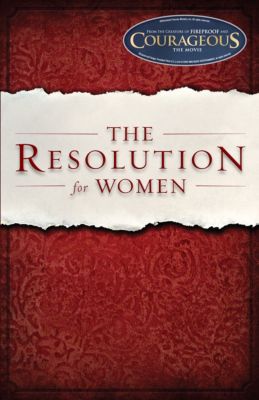 The Resolution for Women
$14.99